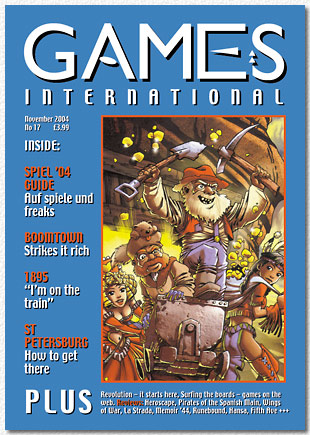 GAMES INTERNATIONAL - Resurrected
Okay, the news is out (see Spielbox Online)! Brian Walker is reviving the journal of fun and games "Games International" (see our article) by releasing issue number 17 at the Spiel 2004 fair in Essen. So we took the chance to talk to Brian about his new venture.
(WPG) Brian, your decision to revive "Games International" by releasing issue #17 nearly 15 years after the appearance of issue #16 surely comes as a surprise to many. Can you tell us what triggered your decision?
(BW) What triggered my decision was unemployment.
(WPG) In last year's interview you told us about the problems GI went through 15 years ago. The games industry hasn't really changed much since and neither has the situation of games journals. Putting together a business model for a mag like GI still seems to be a challenging task. What are you doing differently this time?
(BW) What has changed in the last 15 years is technology. I've utilised this in what I think is an innovative way, and I'm not just talking about PDF files. The changes in this field have also altered the business model, particularly printing and distribution. These are usually the two elements that kill off small circulation magazines. Also, because of the (relative) boom in boardgames in the US, a new area has opened for us. I'm already discussing licensing the mag to a US publisher.
(WPG) You are going to publish GI in English. Although English is commonly spoken almost anywhere in the world you are probably addressing mainly British and American readers. However, gaming in Britain is still a lot different to gaming in Germany for example. How are you going to attract British readers and what is your actual target group?
(BW) Without wanting to sound chauvinistic, English is the international language so our 'target group', were we to have such a thing, would be 'gamers everywhere who speak English'. When you start getting into market demographics beyond that, then you start to lose the plot.
(WPG) GI used to have a group of excellent writers mainly from the gaming scene in London together with game designers providing in-depth articles and strategy seminars. Have you been able to recruit some of the "old crew" or who else besides yourself is going to provide content for the magazine?
(BW) Amazingly, most of 'old crew' are still alive. Guys like John Harrington and Philip Murphy, I had to drag them kicking and screaming out of retirement homes, but they'll be okay as long as they get to bed early.
I've taken on some new American writers but I'm having to teach them to spell correctly. I asked Mik Svellov to be our European news editor because he was the only person I asked that had ever heard of me.
(WPG) 15 years ago you covered German games to a large extent. Will German games again be a main subject of the "new" GI?
(BW) Just like before, we'll cover games from anywhere. In issue 17 there will be an emphasis on US and British games (we do have some), but that's because there's a slew of new releases from those countries. In the issue following, I guess there will be a lot new German games because of Essen. If the awful green things from outer space dropped off a few boxes, then we'd cover them too.
(WPG) The news blurb on Spielbox Online mentions a printed and an online version of the mag at different subscription rates. Can you tell us something about the reasoning behind releasing the mag on paper and online?
(BW) That's easy. The on-line version costs us nothing to produce, so even if we don't sell a single issue via PDF, it's no big deal. The difference between the two versions will only be in resolution, with the PDF being optimised to enable fast downloads. You'll be able to print it out, which will save readers in Australia waiting two years to get the newsstand version.
(WPG) You are shooting for a Spiel 2004 release of issue #17 of GI. Is the release actually planned to happen during the fair? Can you tell us when and where exactly?
(BW) The grand launch at Essen will consist of me turning up on the first day with a big box of magazines, begging for a drink.
(WPG)It says that you are going to put the complete contents of issues #1 to #16 online for free downloads. Where and when will we be able to find this?
(BW) The free downloads will be available from www.gamesinternational.biz . The site should be up next week (10/9), and the back issues available when I find time to scan them.
(WPG) Thanks a lot for your answers and background information on the new Games International. Many gamers are looking forward for the re-release of this fine games magazine. We are wishing you the best of luck and success.
(BW) It's been a pleasure, and I look forward to meeting readers old and new at Essen.
This interview was carried out end of August 2004.