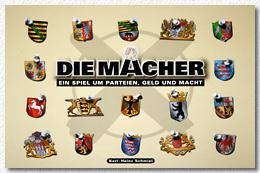 | | |
| --- | --- |
| Designer | Karl-Heinz Schmiel |
| Publisher | Hans im Glück |
| released | 1986(1997) |
| Players | 3-4(5) |
| Playing Time | 4+ hours |
by Aaron Haag
Sipping at the rather mediocre Claret did not sooth the wounds. The wine's quality too much reminded me of the performance of our party - the elections in Hamburg had been a disaster. In retrospect, our programme clearly had not been in line with the interests of the voters. Even the heavy investment in the media in order to push our ideas did not help and the decision to send one of our backbenchers to support our election campaign was plain stupid. Even in Hamburg they want to see some of the big guys - I should have known better.
The only relief is that Hamburg is one of the smaller federal states and the outcome of the election will not have too big an impact on the forthcoming federal elections. If it were not for all that money spent so badly…
Well, the lesson has been learnt and it came just in time before that all important election in North Rhine-Westphalia, the state with the largest population, playing a huge role in the outcome of the federal elections later. We have to get it right this time. Only problem is that it's the worst possible time to be out of money - sending in one of our big bosses is vital here and that will cost a hefty sum. And getting sufficient media coverage doesn't come cheap either. Maybe we should consider tanking a backhander just this one time? But will we be able to recover the credits lost at the party base, if we do so?
What sounds so realistic are in fact the thoughts that might go through your head when playing Karl-Heinz Schmiel's "Die Macher". In its first release in 1986 it was published as a four player game by Schmiel's own Moskito company. Then, in 1997 a new release appeared published by Hans in Glück, taking care of the changed political landscape in Germany and now supporting three to five players.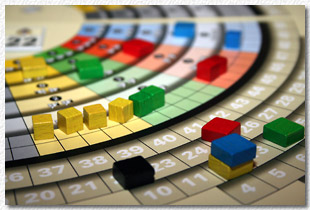 My first encounter with "Die Macher" was in Munich Olympia Hall in the mid 1980's at a convention, which if my memory serves me right here, was called "Münchner Spieletage" and what must have been the predecessor of today's "Spielwiesn" in Munich. There I saw Karl-Heinz Schmiel standing in front of a flipchart rack in front of a small crowd, explaining his new creation "Die Macher". At that time my own gaming experience had been limited to the range of "Spiel des Jahres" award winners and some of the classic family games published by Ravensburger. And what Herr Schmiel was explaining at his flipchart by far exceeded the complexity of any game I had experienced so far. Was this really a game? Or was it more like a very complex simulation? When he mentioned that the playing time was in excess of four hours I wondered what kind of player one could play this game with.
As the explanation continued my initial disbelief changed to amazement and then fascination. This was definitely a game - complex one for sure - and of a kind which I had not seen before: a true strategy game.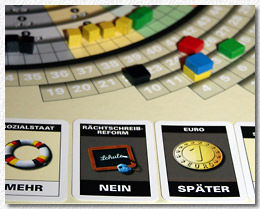 Being so fascinated with the game I decided to buy it without actually knowing with whom I should ever play it. Then the "Westpark Gamers" came into existence at about the same time and that was the perfect setting for "Die Macher". However, we only played it a few times as the rules of this complex game made it necessary to go through them before every single game adding even more time to the already long playing time. Eventually, we lost interest in the game before we had developed a sound winning strategy. Later, in 1989, Brian Walker of Games International, also fascinated by the game published a strategy guide in issue 5 of his magazine. And did you notice the game id of "Die Macher" at boardgamegeek.com?
The second edition of "Die Macher" came with simplified rules that considerably eased the way for beginners to get into the game while at the same time maintaining the game's overall appeal and strategic challenges. Not to mention the improved quality of the game components. Still, the game rules need some explanation time and the playing time still is 4+ hours. I recommend that you start a game of "Die Macher" not with a long rules explanation but just with a brief description of the overall concept and game components. The complete set of rules can then be explained during the first round of the game as some kind of "training on the job". If you take care that the first election is held at one of the smaller states, mistakes or misunderstanding will not have a big enough impact on a single player's game to spoil the fun.
"Die Macher" for sure is a definite gem on my game shelves and playing it, seldom as it is, adds to its cult status every time. If you have a chance to play this game do so. If you don't own it and don't know anybody who's got a copy, you may be out of luck: both releases are out of print since quite a while. Maybe someone can convince Hr. Schmiel to publish a third release in 2007, another ten years after the last one…
add/read comments

©2005, Westpark Gamers